Get most reliable way to stay connected in United Kingdom
Select your perfect data plans to enjoy 4G LTE

4.98 999+ sold

5.99

4.67 745 sold

9.99

4.50697+ sold

20.99
Our Local Network provides coverage 99% of time in the UK
ESIMUK.NET offers reliable service on EE's network. You'll enjoy 4G LTE speed data almost everywhere you travel in the UK.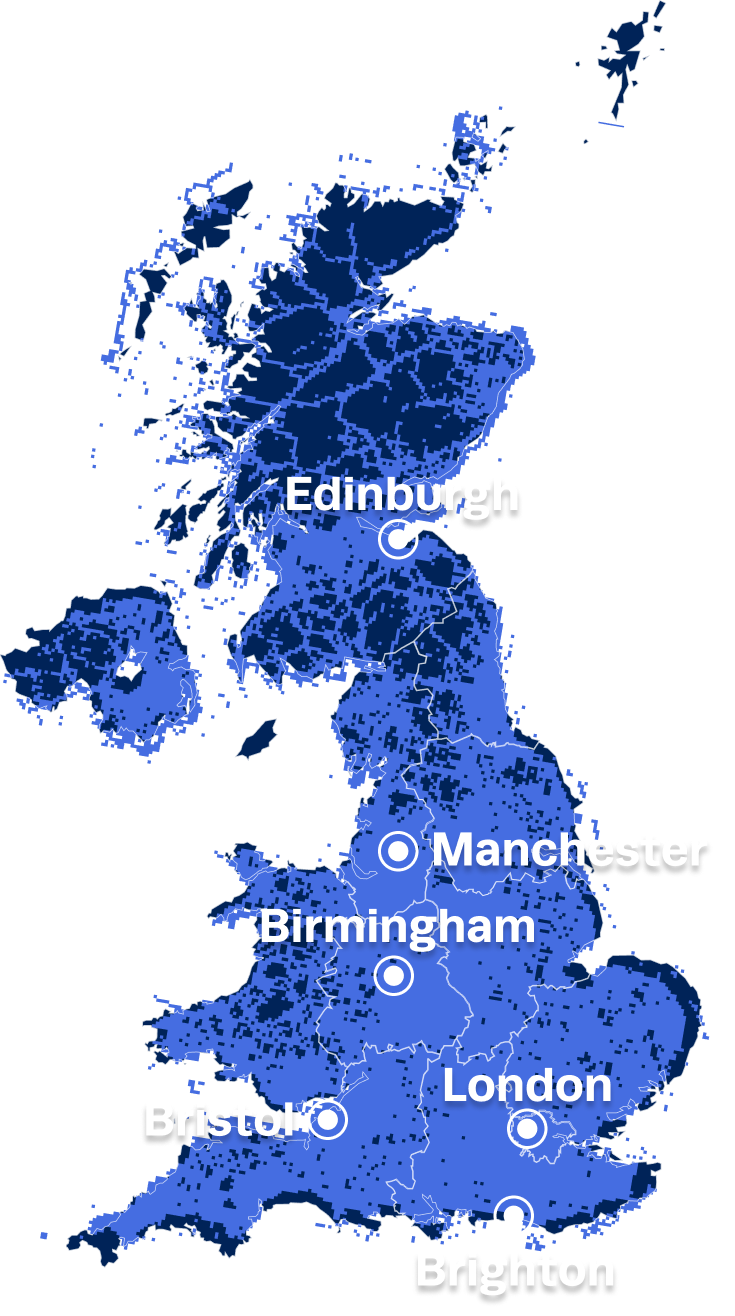 High-speed
4G LTE data
Enjoy the remarkable speed of the reliable 4G LTE network, ensuring a seamless and uninterrupted connection.
Quick delivery
& Activation
Save valuable time by obtaining an eSIM in just 15 minutes, and activating it within a couple of minutes to experience a smooth and reliable data service.
Infinite
hotspot data
Experience the freedom of unlimited hotspot usage. Share your data with your loved ones without any limitations.
Keep your original
phone number
Do not worry about staying connected to your home. You can keep your original mobile phone number while enjoying seamless data connectivity through our eSIM Solution.
100% prepaid
& No-contract plan
Skip a complicated contract with our one-time prepaid eSIM – no surprises, no auto-renewals, and no extra fees.
Near-local rate
& Transparent pricing
Say goodbye to costly roaming fees and hello to affordable and transparent pricing. eSIM UK is the smartest choice you could make.
Our 24/7 specialists are here to help you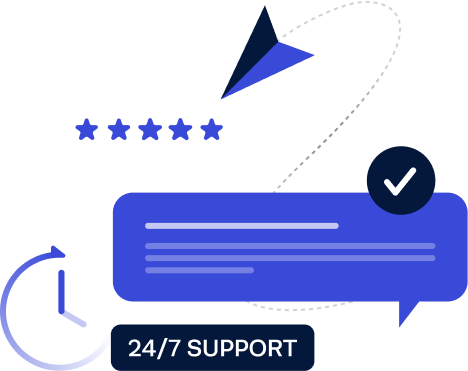 Start your journey with confidence. Our dedicated customer support team is here to assist you, no matter where you are in the world. Simply contact us via email.
| | |
| --- | --- |
| | Receive help in as little as 5 minutes. |
| | Receive real human support, not automated response. |
| | Receive practical, real solutions from experienced experts. |

Christopher Martin

Verified
eSIM UK Unlimited Plans
"Setting up the eSIM was remarkably easy. Simply follow the instructions in the installation guide provided by eSIM UK. With less than 5 minutes of configuration, I enjoyed fast and reliable internet connectivity that pleasantly exceeded my expectations. If you're looking for an affordable, yet high-quality eSIM, you've come to the right place."

Julie Moore

Verified
eSIM UK Fixed Plans
"Let me emphasize the importance of having 24/7 real human support, especially for someone like me, a first-time eSIM user. Without the help of Customer Support, I wouldn't have been able to fully enjoy my trip with seamless high-speed internet coverage throughout the United Kingdom. I wholeheartedly recommend eSIM UK, as it worked flawlessly with my Galaxy 23 Ultra."

Hana Suzuki

Verified
eSIM Europe Unlimited Plans
"eSIM UK offers the ideal plan that covers my destination, England, France, and Germany. From choosing the ideal plan to securely processing PayPal transactions in USD, the entire experience was seamless. The Unlimited plan made me feel secure, ensuring I'd have a connection no matter where I go. In my view, this is the hassle-free and secure way to acquire the right data plan." ESIMUK.NET helps you to select the eSIM UK data plan & offers you a QR code instantly via email. Get a connection from the fastest local network, EE and Three.
Be prepared for your memorable time in the United Kingdom with ESIMUK.NET. We assure you of a smooth connection, whether you're strolling around Buckingham Palace, standing atop Edinburgh Castle, or admiring the view from the London Eye. Capture and share these moments on your favorite social media platforms to make your journey even more memorable.
Have nothing but peace in your mind with our round-the-clock customer support, ready to assist you throughout your entire journey. We guarantee your trip will be exceptional with our reliable and fast eSIM. Order the best UK eSIM plans & Enjoy the easiest roaming data with eSIM cards at a reasonable price!
Is this your first experience with eSIM?

Count on us for your stress-free eSIM experience.
eSIM, an abbreviation for embedded SIM, offers a convenient solution for travelers in search of mobile data access abroad, all without the need to change their physical SIM cards. Our user-friendly eSIM data plans are delivered promptly to your email within 5 to 15 minutes of payment. Say farewell to the inconvenience of lining up for a physical SIM card while traveling. With eSIM, you can retain your original physical SIM for receiving SMS and calls from your home country. Unlock the benefits of eSIM with a quick QR code scan and commence your extraordinary journey with our exceptional eSIM data plans.
Please verify the compatibility of your device with our advanced eSIM technology to ensure a seamless connectivity solution. While most GSM-compatible devices can work with our eSIM, compatibility may vary depending on your location and carrier. In the case of iOS devices, models released after the iPhone XR generally support our eSIM. However, devices manufactured in Hong Kong or China may not offer eSIM functionality. On the Android side, the latest Samsung Galaxy and Google Pixel phone models typically offer compatibility with our eSIM, though it may depend on the specific model, manufacturing location, and carrier. To ensure compatibility, please consult our comprehensive list of supported devices.
Compatible Device
iPhone 15, 15 Plus, 15 Pro, 15 Pro Max,
iPhone 14, 14 Plus, 14 Pro, 14 Pro Max,
iPhone SE3 (2022),
iPhone 13, 13 Pro, 13 Pro Max, 13 Mini,
iPhone 12, 12 Pro, 12 Pro Max, 12 Mini,
iPhone 11, 11 Pro, 11 Pro Max,
iPhone SE2 (2020),
iPhone XR, iPhone XS, XS Max
(Recommended iOS version: iOS 13.3 or later)
Incompatible Device
iPhone purchased from mainland China
iPhone purchased from Hong Kong and Macao (except for iPhone 13 mini, iPhone 12 mini, iPhone SE 2020, and iPhone XS)
Compatible Device
Galaxy S23 5G, S23 Ultra 5G, S23+ 5G,
Galaxy S22 5G, S22 Ultra 5G, S22+ 5G,
Galaxy S21 5G, S21 Ultra 5G, S21+ 5G,
Galaxy S20, S20+, S20 Ultra 5G,
Galaxy Note 20, Note 20 Ultra, Note 20 Ultra 5G,
Galaxy Note 20+, Note 20 FE, Note 20 FE 5G,
Galaxy Fold, Z Fold 2, Z Fold 3, Z Fold 4, Z Fold 5
Galaxy Z Flip, Z Flip 3 5G, Z Flip 4, Z Flip 5
Incompatible Device
All Samsung S20 FE/S21 FE models
S20/S21 and Galaxy Z Flip 5G from USA
Note 20 Ultra and Galaxy Z Fold 2 from USA and Hong Kong
Compatible Device
Pixel 7, 7Pro,
Pixel 6, 6a, 6Pro,
Pixel 5, 5a,
Pixel 4, 4a, 4XL,
Pixel 3, 3XL,
Pixel 3a, 3aXL
Incompatible Device
Pixel 3 models manufactured from Australia, Taiwan, and Japan
Pixel 3 models bought from US or Canadian carriers other than Sprint and Google Fi
Pixel 3a models bought in South East Asia and with Verizon service
Why choose eSIM over other options?
Budget-friendly

option

Save time,
add convenience

Eco-friendly and
Earth-friendly!

Make a smart consumer choice by opting for a cost-effective alternative instead of international roaming plans.
No more waiting in line for physical SIM cards or pocket Wi-Fi. Your eSIM will be swiftly delivered to your email inbox.
Contribute to environmental protection by selecting a plastic-free eSIM, actively reducing waste and CO2 emissions.
| | |
| --- | --- |
| | Budget-friendly option Make a smart consumer choice by opting for a cost-effective alternative instead of international roaming plans. |
| | Save time, add convenience No more waiting in line for physical SIM cards or pocket Wi-Fi. Your eSIM will be swiftly delivered to your email inbox. |
| | Eco-friendly and Earth-friendly! Contribute to environmental protection by selecting a plastic-free eSIM, actively reducing waste and CO2 emissions. |

Get eSIM at your fingertips, Get ready for your trip!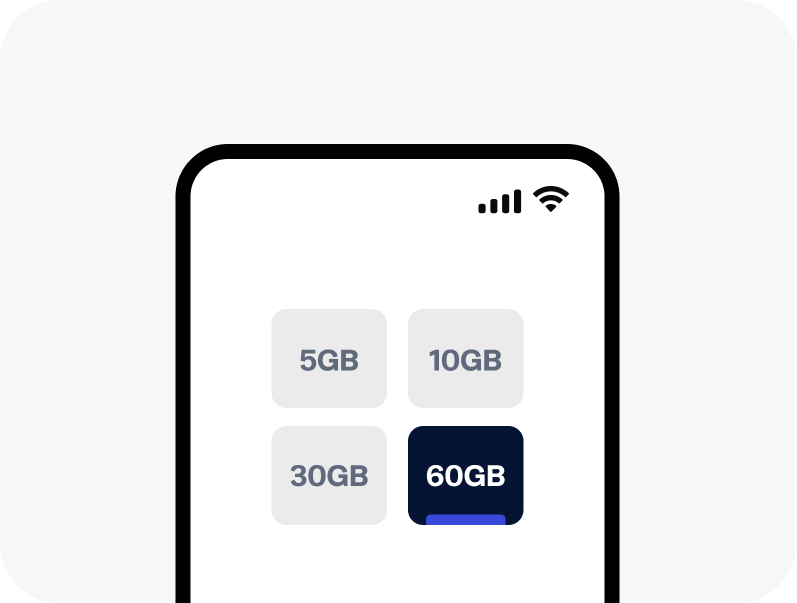 Choose the plan that suits your travel needs and place an order.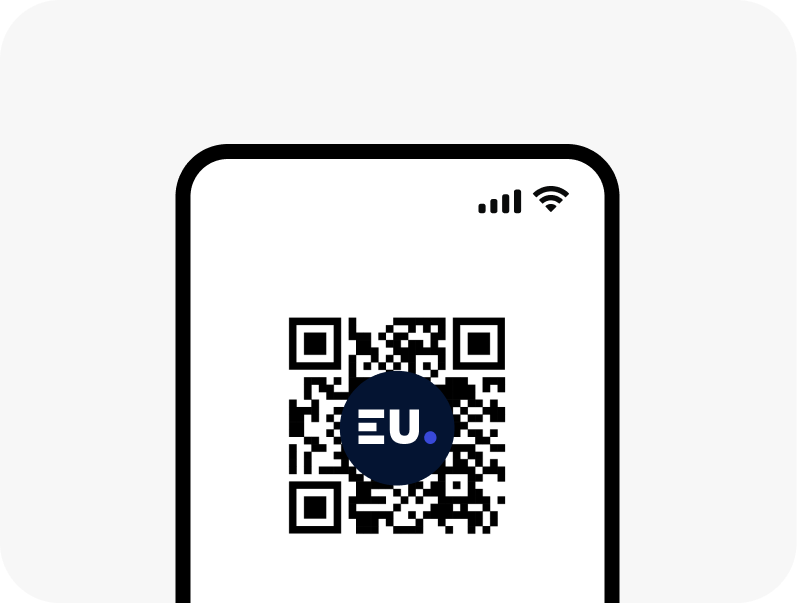 Receive the QR code via email and instantly scan it to activate.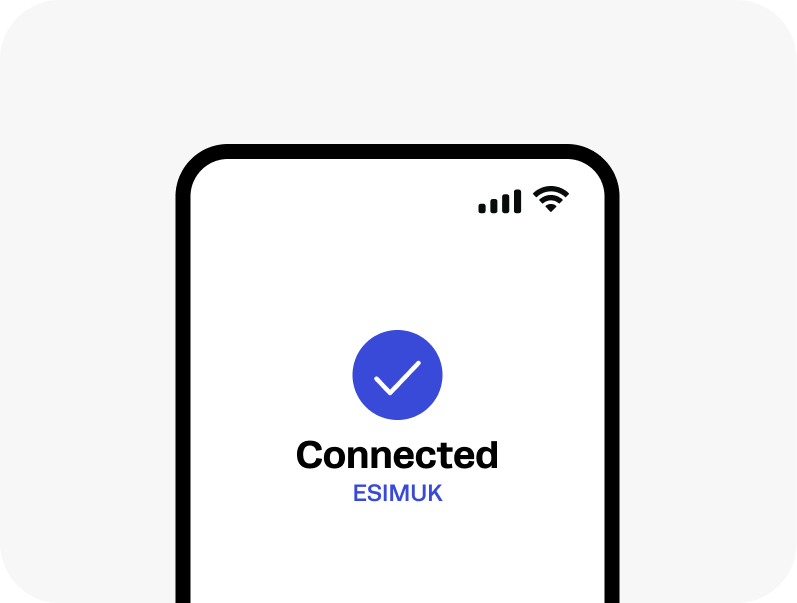 Have a light and enjoyable trip without any data concerns.